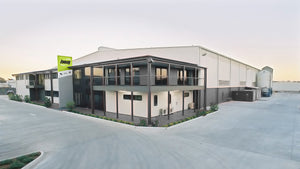 Evolve and Poolrite complete multimillion-dollar investment to drive growth in its Australian manufacturing facility.
The Evolve Group a Brisbane based product design and manufacturing facility have successfully completed a multimillion-dollar investment deal partnering with a large private equity fund enabling Evolve and Poolrite to continue their aggressive growth trajectory. Evolve specialise in designing and manufacturing high quality products here in Australia more cost effectively than the likes of China and other overseas countries.
The successful investment is a positive announcement that has been in the pipeline for some time. The investment has been made by a large equity fund who identified an opportunity to back Evolve and their huge pipeline of design & manufacturing work, and the growing stable of blue-chip customers which extends to Poolrite and the growing customer base surrounding the brand.
This investment will ensure Evolve has the equipment, resources and funding to grow well into the future. Additionally, it enables Poolrite to establish itself as a new standalone entity solely focused on the Pool Industry, customer service and delivering an iconic Australian made brand to the market. A focus that will significantly improve the Poolrite offering. 
A portion of the investment will see a suite of brand-new high-speed injection moulding machines, new robots, and a new facility wide chiller system installed to increase the factory's capacity and improve part quality. The new world class equipment will start to arrive as early as May and will be commissioned in Brisbane in July/Aug. 
The next stage of investment will see a 650kw solar system and a recycling plant installed to enable Evolve to reduce their power consumption and also recycle plastic waste materials onsite at their Brisbane facility. Further establishing Evolve as a world class leader in the field of product design and manufacturing with a focus on the circular economy and support recycling and reuse of raw materials.
As a group Evolve and Poolrite appreciate all of our customers ongoing support and patience over the years. The hard work begins now and over the coming few months while the new structure is established, machines commissioned and we start to drastically improve our capacity, DIFOT and overall level of customer service.
---